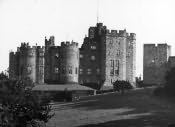 The town of Alnwick, historically known as the County town of Northumberland, lies in the centre of the county, 33 miles North of Newcastle and 30 miles south of Berwick. Lying on the south bank of the Aln river, the town has stood on its present site since the Norman invasion. It has a long and colourful history, with the Percy Dukes of Northumberland being the principal landowners for the past seven centuries.
Yvo de Vescy was the first Norman baron of Alnwick that is known for certain, from 1096. The de Vescy family held the barony until the end of the thirteenth century. Left infeoff to Anthony Bek, bishop of Durham, the lands were sold to Henry de Percy in 1309. The Percies have held the title of Earls and Dukes of Northumberland ever since, not withstanding the occasional seizing of lands by the crown for treason. The Scottish Borders was a lawless place, and the Percies were Lords of the Marches. Many of these first earls, including the famous Henry "Hotspur" Percy, met with a violent death. When the Eleventh Earl died in 1670 the title came through the female line, settling eventually on Elizabeth Percy, who married Sir Hugh Smithson and set about restoring the castle, making it their principal northern seat. The dukedom was bestowed on them in 1766, and this present line continues today with Ralph Percy 12th Duke of Northumberland.
The Alnwick area is mostly agricultural, and from ancient times until the 1770s there were several mills along the Aln river, primarily for the grinding of corn, wheat and other grains. The land around the river was also used by the tanners, to bleach the hides of animals. The town itself was originally a walled town, with four gates. There is only one still standing, Hotspur Tower at the entrance to Bondgate within, built in the 1300s.
Today Alnwick is well known for the annual Fair held at the end of June, as well as the International Music Festival in August. The castle has appeared in many films over the years, most famously as the setting for Hogwarts in the Harry Potter film. With the opening of The Alnwick Garden, created by the present duchess of Northumberland, Alnwick is set to remain as an important landmark in the future of the county.