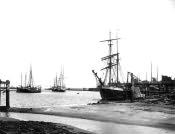 The town of Amble is situated on the North Sea coast, at the mouth of the Coquet river in mid-Northumberland. It can be found 1 mile southeast of Warkworth and 9 miles south of Alnwick. Amble was built on a point of land that juts out, so providing extensive views of the coastline. The old spelling for Amble is thought to be Annebelle, meaning Anna's Promontory.
Amble and the surrounding area has been populated for many centuries. Ancient British foundations have been found here, as well as Roman coins, signifying occupation during different periods of time.
Coquet Island, located one mile south east of the river mouth, was a popular retreat in the time of St. Cuthbert. It belonged to the Earl of Warwick following the dissolution of the monasteries, later it passed to the Widdringtons, who sold it to the Duke of Northumberland. Sandstone was quarried here early in the seventeenth century, and the quality was such that it supposed to have been recommended to an earlier Earl of Northumberland for repairs to his London home, Syon House. Today the island is a very popular place to visit. It is held as an RSPB reserve and is used by many native and visiting birds as a nesting place, particularly the terns which return each summer.
The parish of Amble was formed out of the parish of Warkworth in the 1860s. St. Cuthbert's was built to designs by Messrs Austin and Johnson of Newcastle, in the early Decorated style. A Catholic church was built in 1879 at Radcliffe, and later in the 1890s both Wesleyan and Primitive Methodist chapels could also be found in Amble.