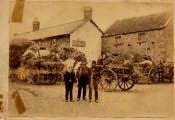 The township of Ancroft, a small rural township, lies within the chapelry of the same name. It is situated on the high road between Wooler and Berwick-upon-Tweed in north Northumberland, not far from the A1, the county's main road. It is peculiar in that it is one of four chapelries that was established on the mainland by the monks of Lindisfarne in the twelfth century.
Ancroft is well known for its Anglican church, the church of St. Anne's. It still contains some of the original Norman fabric, and in the thirteenth century was fortified with a large tower at one end, making it look more like a castle than a church. This tower was built for the residence of the curate and the protection of the villagers during the border raids of the Scots. It remains a fine example of a pele tower and is unusual in that it is attached to the church itself.
In ancient times Ancroft was owned by the Colvils, but in the fourteenth century the Scots laid waste to the village. After this, Ancroft came into the possession of the Grey family, where it remained for several centuries. There was once a limestone quarry here too, noted on the Ordnance Survey maps as disused by the 1890s. A school was built in the 1850s along with a teacher's residence; in1855 there were on average 80 pupils attending, and the teacher was Joseph Graham. It seems that at some point in the past there was some importance attached to Ancroft. Several foundations of houses in a nearby field were discovered and it is possible that the army of Queen Anne in the early eighteenth century housed their bootmakers here. There is a legend that plague swept through these houses. Infected people were taken to a nearby field where the broom grew. When they died, their bodies and the huts they were in were burned. This field is supposed to be known as Broomie's Hut.
Since this time Ancroft has survived as a quiet village. In 1801 the population of the chapelry stood at 1,144 persons; in 1821 it had risen to 1,378 people and by 1851 numbered 1,883. By 1891 however, the directories note that the civil parish held 1,526 people and the ecclesiastical parish only 617.