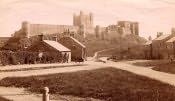 Positioned just off the North Sea coast and in the shadow of the magnificent castle that bears its name, Bamburgh is a rural village with a long and sometimes turbulent history. This castle, set 180 feet high on an outcrop of the Great Whin Sill, is mentioned as an impregnable fortification in the ancient times of the kingdom of Northumbria. It was laid siege to unsuccessfully in the twelfth and thirteenth centuries, later encountering such ferocious attacks during the Wars of the Roses that it never fully recovered. It came into private ownership in the early seventeenth century, undergoing restoration and rebuilding, and eventually came to the Armstrongs. Today the castle is a very popular visitor attraction.
Nearby to the north of the village is Budle Bay. The bay is the estuary for two streams, the Waren and the Low. It is a well-known stopping point for bird enthusiasts; at low tide there is a vast mudflat well populated with ducks and geese as well as waders and migrating birds.
Bamburgh village lies within its own deanery and ward. It was once a royal burgh. The Foster family were prominent in the area, after a large grant of land was made to John Foster in the time of Henry VIII. Several monuments to the Foster family can be seen in the parish church of St. Aidan's. This Anglican church dates from the thirteenth century and is perhaps best known today for its effigy of Grace Darling. There is also a museum at Bamburgh to Grace. This young heroine in 1838, along with her father, rowed through the sea during a terrible storm to rescue the men of the Forfarshire whose ship had foundered on the rocks.
The form of the village is triangular in shape. At the centre is a stand of trees which covers a filled-in quarry, where much of the stone used to build the castle is supposed to have been taken from. Bamburgh has always been a small rural community. Parson and White's Trade Directory of 1827 lists the population in 1801 as 295 people. In 1821 more details were available and we can see that the village had 342 people, including 83 families and 83 houses. Bamburgh remains a picturesque village today, with hotels, shops and tearooms to accommodate the many visitors that arrive each summer. The village green is often the site of summer cricket matches, set just below the castle and sheltered from the sea breezes. In recent times the village and area was showcased when it was the setting for an edition of the BBC television show Songs of Praise.