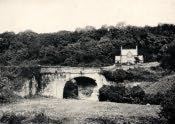 The town of Bedlington has a population of 15,400 and is situated in the southeast of the county on the River Blyth. Until as recently as 1844, it was ruled by the Bishop of Durham both in civil and ecclesiastical matters, and it is here that the famous Bedlington Terrier was originally bred.
The major industry in Bedlington during the 18th and 19th century was the production of iron. In 1736, the Bedlington Iron and Engine Works was set up by William Tomlinson, a Newcastle ironmonger, in the valley of the River Blyth. The first product was the slitting of iron for nail making. Nail making continued in Bedlington until the middle of the 19th century. At the beginning of that century Michael Longridge, a friend of George and Robert Stephenson, came to the works as the manager. It was under his direction that the works was to play an important part in the development of the railways, namely the patenting of a malleable iron rail in 1820, which was to replace the cast iron short rail then in use. In addition, as many as 215 engines were produced for locomotives at the ironworks, before it finally closed down in 1867 due to competition from other concerns.
By the end of the 19th century Bedlington was becoming notable as a coalfield village. The influential and powerful 'Bedlington Coal Company' was founded in 1838, producing their first coal in 1841. By 1909, there were as many as ten collieries producing coal in the area. In 1974 the last of these collieries ceased production.
In the centre of the village there is one main street, 'Front Street', which is very wide and spacious, and almost one mile in length. There is also an 18th century market cross, in the shape of an obelisk, which separates the West End of Front Street from the East End.
One of the most important historic buildings is the parish church, which is dedicated to St Cuthbert. It is reputed that the church takes its dedication from an event that occurred December 12th 1069. Fleeing northwards from the Conqueror's army, the monks of Durham are said to have rested the body of St Cuthbert in Bedlington Church. The church, originally of Saxon design was rebuilt about a hundred years later. Little of either the Saxon or the Norman church have survived.
Today, Bedlington is an attractive market town and residential area for those who work in South Northumberland and Tyneside. The main visitor attraction is the Bedlington Country Park, while the major employer in the town is the electronics company, Welwyn Components.