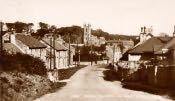 Belford is described in 1879 as being both a township and union town, and also head of the county court district. The town lies 49 miles north of Newcastle within a vale, sheltered from the easterly winds by a line of nearby hills. These hills give way to the fertile Northumberland coastal plain, and the area around Belford is mainly agricultural, supporting both animals and crops.
Its history is that of a post-town, situated on the post road between London and Edinburgh. The Blue Bell was a thriving coaching inn, serving the many coaches and travellers that used the road. Much earlier than that Margaret Tudor, daughter of King Henry VII, was recorded as having stayed at Belford on her progress north to marry James IV of Scotland in 1502.
Belford Hall to the east of the town was owned in the late nineteenth century by George Dixon Atkinson Clark, styled lord of the manor and chief landowner. The hall was built in the 1750s by Abraham Dixon, and some of its features are from later designs of the architect James Paine. It remains a good example of an eighteenth century mansion house set in parkland.
Belford was once the most populous village in the district and a market town. It grew during the nineteenth century, the census telling us that in 1801 there were 902 inhabitants. By 1851 this had grown to 1,226 inhabitants and 234 houses. Belford had a union workhouse too, which in 1851 contained 26 people. The East Coast railway was completed in 1852, and this changed the role of the Blue Bell inn from primarily a coaching inn.
St. Mary's church was entirely rebuilt in 1615, with extensive renovations taking place in 1700. The east end was originally a chapel exclusively for the use of Belford Hall. The church that we see today was built in 1828, with its pinnacled tower in the early English style. There was always a strong tradition of Presbyterianism in the Borders, and at one point Belford had three Presbyterian churches in the town.