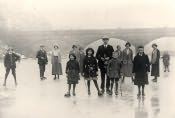 Bellingham is a small market town in a parish of the same name, lying within the deanery of Corbridge. It is situated 16 miles north northwest of Hexham and 25 miles west of Morpeth. The town site is on the north bank of the North Tyne river by the Hareshaw Burn, and is said to be sited on a Roman station. Certainly there are several remains from ancient times in the area. Bellingham is traditionally known as belonging to the Lords or Barons of Bellingham, who had a seat or castle here at Hall field. The soil in this area is very fertile, both in the valleys and on the hillsides, and in the early nineteenth century was known for producing an abundance of both corn and turnips.
Parson and White's Trade Directory for Northumberland and Durham of 1827 provides the information that in 1801 Bellingham contained 337 people, while in 1821 this number had grown to 404. Later directories show a steady growth in population; in 1851 there are 770 people noted as living in the town.
In the first part of the 1800s, a weekly market was held at Bellingham on Saturdays, as well as an annual fair each September. In addition, the twice-yearly hirings also took place here, for the taking on of agricultural servants, in May and November respectively. Bellingham was one of the Poor Law Unions, comprised of 37 parishes and townships. In 1839 the Bellingham Union Workhouse was built at a cost of £700. It held accommodation for 60 people; Whellan's Directory for 1854 notes that there were 24 inmates at the time.
The parish church of St. Cuthbert, the local Anglican church, was consecrated in 1180, and is unique because of its arched roof that is covered in stone, perhaps the only one of its kind still in England. This was in response to the repeated burnings of its wooden roof by the border raids. It is also the site of the tombstone of the Long Pack, a famous Northumbrian folktale. John Wallis, who wrote The Natural History and Antiquities of Northumberland, published in 1769, was the curate at Bellingham.
Bellingham today is a small rural village in an attractive part of western Northumberland. In April 2003 attention was drawn to the village when Lord Redesdale officially opened the rejuvenated heritage centre.