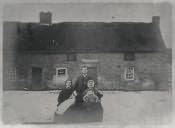 The village of Bowsden lies within the parish of Lowick in north Northumberland, and can be found approximately 7 ½ miles south of Berwick-upon-Tweed, two miles northwest of Lowick village and 7 miles from the North Sea coast. The roman road known as The Devil's Causeway passes close by the village.
There is evidence of ancient activities in this area, and perhaps Bowsden is best known for a discovery made in 1800. Men were working at levelling a barrow, and came across two urns inverted on broad flagstones, which revealed some bones that were partially burned. Other discoveries have been made in the area too.
Bowsden is a small scattered village with one main street. During the nineteenth century there was a post office in the village; George Fairbairn was the sub-postmaster in 1897. There was also a national school for both boys and girls, built in 1878 to house up to 80 children; twenty years on, the average attendance of the school was 40, and William Thompson was the master. Commercial businesses included a blacksmith, shopkeeper, general dealer, and a boot and shoemaker. The Black Bull public house welcomed locals and visitors alike. At this time the trustees of the late H. K. Gregson Esq. were known to be lords of the manor and principal landowners. Coal and limestone could be found in abundance, and there was a working coal mine; by the close of the 1800s however it had ceased operating. Population figures for this time show a steady increase in the parish. In 1801 there were 1,382 people recorded as living within the parish boundaries; this had risen to 1,799 in 1821, and by 1851 it had risen again to 1,941.
The village benefited from a reading room, which was kept up by members' contributions, and this diversified into a games room for billiards and darts into the years of the Second World War. The village hall was built in 1924 and has continued to be a popular venue for celebrations as well as a regular meeting place over the years. Bowsden village continues to enjoy a peaceful location in an attractive rural area of the county.