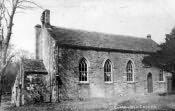 Carr Shields is a village within the township of West Allen in south Northumberland. It lies 11 kilometres (7 miles) south of Allendale, which in turn lies approximately 14 kilometres (9 miles) south west of Hexham.
Carr Shields forms part of the Hexham estate. In 1689 Sir William Blackett of Wallington purchased the estate from Sir John Fenwick. The estate remains the property of the Blackett-Beaumont family.
The Blackett, later the Blackett-Beaumont family, owned the mineral rights to almost all of the land in the Allendale valley. The development of the leadmines from the 17th century brought the family great personal wealth and an increased prosperity to the area. At one time, the Blackett mines yielded one seventh of the total lead ore produced in the United Kingdom. However, by the third quarter of the 19th century leadmining in the valley was in a decline - many of the leadmining families removed from the valley to the developing coalmining areas of Northumberland and Durham.
The ancient parish of Allendale originally served the village of Carr Shields. In 1764 a chapel to Allendale church was built at Ninebanks. Three years later in 1767 the chapelry was created a parish. Carr Shields formed part of this new parish. In 1822 a chapelry of Ninebanks was built at Carr Shields for the use of the leadmining families that populated the area. Mrs. Diana Beaumont, the lady of the manor, provided the funding for the building.
When the new chapel was opened in 1822 the existing chapel building was converted into a schoolhouse. In November 1877 a Board School was established in the village. This school closed in July 1968 with only five pupils.
There is a strong history of religious non-conformity in the Allendale valley. There were no Methodist chapels at Carr Shields but there were several in West Allen township. There were Wesleyan Chapels at Limestone Brea (built in 1824); Hesleywell (built in 1827); High House (built in 1829); Shield Ridge (built in 1854) and Mohope (built in 1858). There were also Primitive Methodist chapels at Corryhill (built 1844) and Whitley Shield (built 1857).