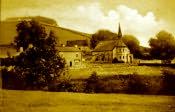 Catton is a small township in Allendale parish in south Northumberland. It lies 2.5 kilometres (1.5 miles) north west of Allendale town, which in turn lies approximately 14 kilometres (9 miles) south west of Hexham.
Catton forms part of the Hexham estate. In 1689 Sir William Blackett of Wallington purchased the estate from Sir John Fenwick. The estate remains the property of the
Blackett-Beaumont family.
The parish church of Allendale, St. Cuthbert, serves the township. However, there is a strong history of religious non-conformity in the Allendale valley. A Wesleyan Methodist chapel was built at Catton in 1870 and a Primitive Methodist chapel at Catton Lane Foot in 1882. W.B. Beaumont, the local landowner and Lord of the Manor, donated the land on which the Primitive Chapel was built. Both churches formed part of the relevant Allendale Methodist circuits.
Catton formed the terminus of the Hexham and Allendale branch of the North-Eastern Railway. The line was 13 miles long and opened for passenger traffic in March 1869. The main purpose of the line was to transport the lead ore produced in the Blackett leadmines to Hexham from where it was taken via the main Newcastle-Carlisle line to Newcastle. It was originally intended that the line would terminate at Allenheads but lack of finance meant that this did not come to fruition.
In 1879 a small Board School was opened in the village. The school was closed in 1960 when the pupils were transferred to Allendale County Primary School.
It is believed that there was a Roman station at Old Town within Catton township.
The station is described in Kelly's directory of 1897 as '… of a square figure, with an entrenchment, and has a portway seven yards broad, paved with stone; between three or four hundred yards from this spot are the remains of old buildings, supposed to have been occupied as the head quarters of the Roman legions …'.