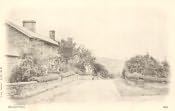 Lying in picturesque Glendale near the Cheviot Hills, in the northern part of Northumberland, Chatton is a small rural village. It is set in a parish of the same name within the Bamburgh deanery, and is situated in a valley on the river Till, which rises south of the Cheviots. Chatton's geographical location is 5 miles southwest of Belford and 5 miles east of Wooler.
Over the centuries it is thought that the village's location moved, along with the changing course of the river; the present layout is around 200 years in age. The soil makeup of the area is clay and sand, with a limestone and rock subsoil. The land around the river is more fertile, and the chief crops at the end of the nineteenth century were noted as wheat, oats and turnips. Elsewhere the land is more heath-like; much pasture land can be found here, with sheep and cattle a common sight.
Not far from Chatton is Fowberry Tower, a fifteenth century structure built originally for defence during the lawless border raids. It is to be found on the banks of the river Till and is set in parkland with notable specimens of a variety of trees. The tower was converted to a residence in the seventeenth century. It was later the home of George Culley, the great agricultural reformer who along with his brother Matthew set about improving methods of soil cultivation in the nineteenth century. Stock improvement was carried out too, and this included the production of the Border Leicester breed of sheep.
The Anglican Holy Cross church is the present church at Chatton, but there has been a place of worship here for many centuries. The original church dated from the twelfth century and was granted to Alnwick Abbey by William de Vesci. After the dissolution of the monasteries in the 1530s, the patronage was settled on the Earls of Northumberland, who were the traditional lords of the manor. The Norman church was eventually consumed by fire, and a new church was built, in the Gothic style, near the earlier site. There was a discovery in 1814, in the north side of the churchyard, of a large stone coffin. The remains were thought to be those of a follower of Robert Bruce from around 1300, and the site contained a silver penny from the period as well as a steel spur and other items.
As the nineteenth century drew to a close, Chatton had a national school with an average attendance of 65; Archibald Jackson was the master of the school. There were 5 shops in the village including a tailor, post office and sweet shop. A blacksmith traded here as well as a carpenter and undertaker. Villagers had use of a reading room, and there was a brewery operating. Today Chatton is still a peaceful rural village; the local public house The Percy Arms a popular place for meals and socializing with locals and visitors alike.