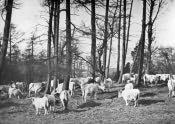 Chillingham is a parish, township and village in north Northumberland. It lies 13 kilometres (8 miles) south west of Belford, which in turn lies approximately 24 kilometres (15 miles) south of Berwick upon Tweed.
In the Middle Ages Chillingham was the property of the Hentercombe family. It then passed into the possession of the Grey family of Wark. In 1623 Sir William Grey was created Lord Grey of Wark. He died in 1674 and was succeeded by his son, Ford, Lord Grey, who was created the Earl of Tankerville. The Earl died in 1701 without a male heir. However, the title passed to Charles Bennet, second Baron Ossulston, who married Mary, daughter of the late Earl in 1695. The Chillingham estate remained in the hands of the Tankerville family until 1980 when it was sold after the death of the ninth Earl.
The Tankerville family home was Chillingham Castle, a castellated mansion set in 300 acres of parkland. The earliest part of the Castle dates back to thirteenth century. The north and south fronts of the Castle were re-designed by Inigo Jones, the seventeenth century architect. In 1828 Sir Jeffry Wyatville designed formal Italianate gardens to the Castle.
Chillingham is well-known as the home to a herd of rare wild white cattle. It is believed that there has been a herd of these cattle at Chillingham for at least 700 years. Following the break-up of the estate after the death of the ninth Earl of Tankerville in 1980 the Sir James Knott Charitable Trust purchased the park and woodlands in which the cattle roam thus preserving the future of the herd.
Chillingham is an ancient parish. It is known that there has been a church at Chillingham since at least the twelfth century. The present building retains a Norman doorway. In one of the aisles of the church there is a magnificent tomb of Sir Ralph Grey and his wife who were buried in the church in the fifteenth century. It is one of the best examples of monuments of this period on the north-east of England. The church is dedicated to St. Peter.
A school was erected at Chillingham in 1835. The cost of building the school was £300. The school closed in 1932 at which time there were only two pupils.