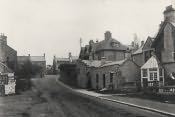 The village of Corbridge is located in south Northumberland, 16 miles west of Newcastle and 3½ miles east of Hexham. It stands in an elevated position on the north bank of the river Tyne, within a parish and deanery of the same name.
Corbridge has a long history, recorded from early times. The Romans created a town and administrative centre here, called Corstopitum. The Roman road known as Watling Street passes through the parish. Corstopitum was known as a centre where the surrounding British people lived and worked much as they had before the Romans came.
The Anglican church of St. Andrews is the parish church of Corbridge, and is thought to have been consecrated in 676AD. St. Wilfrid is supposed to have built the church at the same time that Hexham Abbey was constructed. It has changed several times throughout the centuries, with a Norman doorway still in evidence, as well as a lych gate constructed in memory of the soldiers killed in the First World War. There are only three fortified vicarages in the county, and one of these is at Corbridge. Built during the reign of Edward II in the thirteenth century, the vicar's pele is to be found in the southeast corner of the churchyard, said to have walls 4 feet in thickness and built mainly from stones taken from Corstopitum. The register for St. Andrews dates from 1657. Later on in the town's ecclesiastical history, Wesleyan, Primitive and Free Methodist chapels were all built too.
Corbridge suffered, as did many other settlements in the county, from the border warfare which was particularly prevalent between 1300 and 1700. Raids were commonplace, and it was not unusual for the livestock to be brought into the town at night and a watch placed to guard either end of the street for marauders. The bridge over the Tyne at Corbridge dates from the thirteenth century, but has not survived. The present bridge was erected in 1674, an impressive stone structure with 7 arches.
Stagshaw Bank fair, held traditionally on July 4th, was one of the most famous of the country fairs. It included a huge sale of stock, and was proclaimed each year by the bailiff to the Duke of Northumberland. Today the County Agricultural Show is held in the fields outside Corbridge each year, a very popular rural event, drawing people from all over Northumberland as well as further afield.