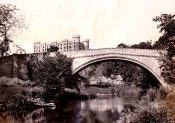 The village of Cornhill lies on the Scottish border, approximately 1½ miles from Coldstream, and so is on the northerly edge of Northumberland. It was in ancient times known as Cornell. The parish carries the same name and incorporates Old and New Heaton and Tillmouth. The river Tweed runs eastward about a mile from the village, where there is an eighteenth century bridge with a span of five arches over the river. Agriculture plays a part here, with a rich soil that supports diverse crops such as turnips, beans, and a variety of grains.
Cornhill was, for political purposes, part of the county of Durham, but in 1844 by act of Parliament was separated from it and then joined with Northumberland. The Anglican St. Helen's Church is dedicated to St. Helen, the mother of Constantine the Great, the first Christian Emperor. Legend says that it was erected in 1082AD, because Norham had become the property of Durham Cathedral. It has undergone rebuilding and restoration work both in the eighteenth and nineteenth centuries, with the bell tower being added in 1840. The church could boast a harmonium by 1856, when the choir was created. In addition to this, the rectory held a lending library of 300 volumes. There have been several gifts bestowed upon this church by the Earls and Countesses of Home, including stained glass windows, an organ, and a new font.
A school was raised in 1837, for the education of both boys and girls following the national system. The master's house was constructed in 1860, the land for both buildings being given by the Collingwoods. The school was enlarged and improved in 1868 at a cost of nearly £200. At the end of the nineteenth century, Cornhill held a cattle market every other Monday, as well as an annual lamb and wool fair in July.
Trade directories for the county as well as census information give a picture of the village's size. In 1851 the population was 973, while the information for 1861 gives the total number of persons living in Cornhill as 853, and 1891 that number had been reduced to 634.