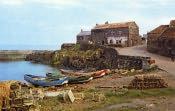 The village of Craster, situated on the Northumberland coast 6 miles northeast of Alnwick, falls within the parish of Embleton. There is an ancient camp not far from the village, sitting on a whinstone ridge named Craster Heugh, from which Craster may have taken its name. The surrounding area is largely made up of whinstone beds; an indentation in these beds provides Craster with a natural harbour. The harbour itself is protected by two areas of rocks, known as Muckle Car and Little Car.
Albert Craster was the founder of the Craster family and was given the township in the twelfth century. The family continued to reside there over the centuries, and built their home, Craster Tower, an imposing residence east of the village. Thomas Wood Craster built a small mission in the village in 1877 so that villagers would not have to make the trip to Embleton to attend church, and this mission took his name. In it's centenary year the Bishop of Newcastle dedicated the church and gave it the name 'St. Peter the fisherman'. Kelly's Directory of Northumberland for 1897 confirms that at the end of the nineteenth century the village still belonged to the family.
Craster has always been known as a fishing village, with its cobles bringing in a variety of fish including herring. The small harbour was built in the nineteenth century for the herring fishery. Perhaps it is most famous for the curing sheds that produce Craster kippers, a renowned Northumbrian export. It is a small rural community; White's Directory for 1847 notes that there are 247 people living in the village, while in 1938 the number totalled 222.
Today Craster is often busy in the summer months, visited by locals and tourists who come to enjoy the lovely harbour and to walk along the shore to nearby Dunstanburgh Castle.