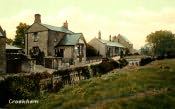 Situated between the dramatic Cheviot Hills to the west and the North Sea coast to the east, Crookham village is set within a circle of small rural communities that encircle the great Milfield plain in north Northumberland. It lies on a bend of the meandering river Till. Glacial activity created a kettle moraine style of ground in the area, composed for the most part of sand and gravel. The name Crookham is thought to have Anglo-Saxon origins, Crookham being taken from 'crucum', meaning 'at the bends of the river'.
The village is near to the Scottish border; geographically it is 4 miles southeast of Coldstream and 9 miles northwest of Wooler. Looking through various published sources it is possible to see that Crookham has always been a modest sized village. The 1762 militia list for Northumberland notes there are 24 men from Crookham eligible for military service, most of them agricultural workers. Early in the nineteenth century the village is described as being 'principally of one street of 44 houses'. At this time there was a school too; interestingly by mid-century it was being used as a school and also a chapel of ease to Ford church. At the end of the century it was disused as a school and was solely for the purposes of Sunday services by the rector of Ford or minister of Etal. A Presbyterian chapel had been built earlier, in 1745 by subscription; 150 years later this was still going strong by all accounts.
The nearby Pallinsburn Estate was owned by the Askew family in the nineteenth century. It is alleged to take its name from Paulinus, one of the ancient archbishops of York, who preached and converted many people in the area. A lake here was where he baptized some of his converts, and so it came to be known as Paulinus' Burn, or Pallinsburn.
As Crookham approached the twentieth century, it had the use of several commercial businesses. Among traders in the village were a carter, shopkeepers, joiner/cartwrights, a blacksmith, tailor, market gardener and an insurance agent. The nearest railway station was 4 miles away at Coldstream, on the Kelso branch of the North Eastern railway. Today is remains a quiet village on the border, enjoying a peaceful setting in a beautiful area.