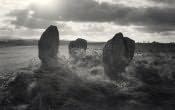 Located in the rural splendour of north Northumberland on the road connecting Berwick-upon-Tweed with Wooler, Duddo is a small village in an area encompassing farmland and plantations. It is situated 8 miles southwest of Berwick-upon-Tweed in the parish of Norham and within Glendale Ward. It has in the past also gone by the name 'Dudhowe'.
The trade directory History, Directory and Gazetteer of the Counties of Durham and Northumberland written by William Parson and William White and published early in the nineteenth century describes Duddo as a small township consisting of 2 farms, a few cottages and a colliery. By 1855 this description had altered to 2 farms, a chapel of ease, a public-house, and a few cottages. Through the first half of the nineteenth century the census returns tell us that the population did not change dramatically. In 1801 there are 231 people in Duddo and by 1851 the number stood at 286. There was an eventual decline however; the 1901 population total was 151. The manor of Duddo, over time, was in ancient times held by the Stryvelling family, before passing to the Claverings, and eventually to the Grey family.
The Anglican church of All Saints, which was consecrated after 1870, is supposed to have been the last church to be built in the Norham deanery. It was constructed in the Early Decorated style to replace the old parish church of St. James the Great. This building was in turn converted to house the school at a cost of £200. It was intended to hold a maximum of 80 children, and at the turn of the twentieth century the average number of children attending was 48. Thomas Victor Staton is named as the master of the school at this time.