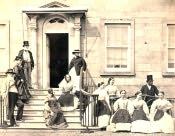 East Ord is situated approximately one mile south west of Tweedmouth in the most northerly part of Northumberland. It sits on the fertile Northumbrian coastal plain, near the Tweed river and not far from the North Sea. Between it and the Tweed are rich meadows and corn fields.
The village was originally called Ord, with Middle Ord and West Ord being built at a later date. Ord is widely scattered, and was confirmed by a Local Government Order in 1891 to be a separate parish for civil purposes which included East, Middle and West Ord. The population of the new parish at that time was given as 552.
The village itself is small, built in a rectangular form enclosing a green. In Kelly's Directory of 1897 the Kelso branch of the North Eastern railway passed through the township. It gave its name to the family of Ord and was the family's seat. The Ords of Ord owned the village until the early fifteenth century. To the east of the village is Ord House, noted in 1828 as belonging to James Grieve Esquire.
There was once an extensive encampment near the Tweed, in the style of the ancient Britons, with earth ramparts and a ditch as defensive measures. Over time there have been many discoveries here, including fragments of spears, armour and other objects.