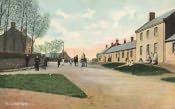 Ellington is a village which lies fifteen miles north of Newcastle upon Tyne on the north side of the River Lyne, or Line as it was formally known, and has a population of 2,300. The name of the village is thought to derive from the Saxon meaning descendants of Ella.
Throughout recorded history, the lands of Ellington have had many owners. The manor of Ellington was thought to belong to Adam de Periton in 1240 and later to pass by marriage to the ancient families of Vescy and Welles. The Widdrington family was known to acquire possessions in Ellington as early as the 13th century. In 1715, Lord Widdrington relinquished the manor of Ellington, along with the manors of Woodhorn, Cresswell and Newbiggin. Other lands and interests in Eliington belonging to other landowners were sold in 1750 to Adam Askew of Newcastle. By the early years of the 19th century, the greater part of the village was owned by the Baker-Cresswells. This situation remained until the sale of their estate in 1924.
Ellington is well known as being a colliery village but was a thriving community long before the opening of the Colliery, having a school, two public houses and several businesses by the mid 1800s. The school, which was built in 1837, was closed to make way for a new school which opened on the Highthorne Estate in 1976. It was remodelled and extended in 1986 to serve the ever-growing population. Very little building has been done in the village since the building of the Highthorne Estate in the 1970s.
The Colliery, which was originally owned by the Ashington Coal Company, began production in 1911. By the time the collieries were nationalised in 1947 there were 1,381 men employed. By 1986 the number had grown to around 2,170 men producing approximately 45,000 tonnes of coal per week. The Colliery changed the face of the one time rural village, with the building of three rows of colliery houses and more shops and businesses. In 1912 a co-operative store was built on land that had once been part of the Cresswell estate, bringing more prosperity to the village. This was eventually superseded by a larger store built in the neighbouring village of Lynemouth.
Hagg Farm, which lies to the north of the village, was bought in 1924 for £8,500 [£? in today's terms] by the Wood family who had been the tenants for over 300 years. The farm consisted of a house, four cottages and 360 acres of land. Hagg Farm House is currently used as a bed and breakfast establishment.
Today, Ellington is made up almost exclusively of private housing and is home to the last working mine in the area. The battle to keep the mine open has been hard fought but successful.