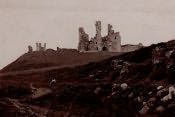 The village of Embleton is located in mid-Northumberland, one mile inland from the North Sea, 1½ miles from Christon Bank and 7 miles north east of Alnwick. It is a small rural village in a parish by the same name, situated near to sprawling Embleton Bay with Dunstanburgh Castle towering at the southern end of the bay.
Embleton boasted a fine whinstone quarry in the nineteenth century. Run by the Appleby family, it had at one time more than 40 people employed there. The land was leased from the owners, and a royalty paid on the cubic yardage extracted. The quarry sold whinstone setts and chippings, tarmac and building stones throughout the county and beyond; the Mersey Tunnel was paved with setts from Embleton quarry. This industry enjoyed a prosperous 100 years; it was only in the late 1950s that it became uneconomic, and the quarry finally closed in 1961.
Embleton displayed a steady growth in population during the nineteenth century; trade directories of the time tell us that in 1801 there were 294 persons living in the village; by 1821 it had risen to 413 persons including 94 houses and 94 families, and at the end of the century Embleton's population stood at 658.
The village school was moved on more than one occasion, it's proximity to the quarry face making a change of site necessary. The modern school, which opened in 1897, stood on the site of the original seventeenth century school. Embleton had a Presbyterian church built in 1833, and at nearby Christon Bank a Primitive Methodist Chapel was erected in 1891. The Anglican church of The Holy Trinity dates from the thirteenth century and has undergone many alterations incorporating several different architectural styles. The church is connected to several families of note in the area including the Greys and the Crasters. The old vicarage boasts a fine example of a vicar's pele, built in the fourteenth century. It is one of only three fortified vicarages in the county today.