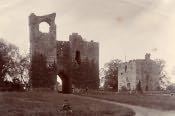 The village of Etal can be found in the north part of Northumberland, within picturesque Glendale and the parish of Ford. It lies between the Cheviot hills and the north sea coastal plain, 9 miles northwest of Wooler and 1½ miles northwest of Ford.
Etal lies within an area that was touched many times over the centuries by border warfare. When Bruce and Wallace carried out their raids in the early fourteenth century, a number of landowning residents received royal licence to crenellate their manor houses. Etal castle is an example of this type of fortification. Situated at the west end of the village and looking towards the Cheviot hills, Etal castle was crenellated in 1341 by its owner, Robert de Manners. This family exchanged the castle and lands with the crown for lands in Leicestershire later in the century, and Etal castle became the residence of the Deputy Warden of the Marches. It was taken by James IV, the Scottish king, when he crossed the border in 1513 on his way to the battle of Flodden. James died at Flodden, and the colours taken by the English were deposited at the castle.
By the nineteenth century Etal was enjoying more peaceful times, and was said to contain 50 houses and 207 inhabitants. Apparently the village had been larger in an earlier time before many pitmen were sent to another colliery. Etal colliery was owned by the Scremerston and Shoreswood Coal Company. St. Mary the Virgin chapel was built in 1856 and consecrated in 1858, the idea of Lady Fitzclarence of Etal House as a memorial to her husband and only child. The building was to a design by the London architect William Butterfield and was a product of the early English style. Etal Manor was noted as standing in fine parkland with avenues of trees and including a formal Italian garden. There was also a large Presbyterian chapel. At the close of the nineteenth century Etal had a variety of businesses trading, including a carter, blacksmith, grocer, post office, dress maker, stone mason, butcher, joiner and cartwright. Mary Sutherland was employed as the ferry boat proprietress. There was a mixed Infants school in the village, and the Marquis of Waterford was the lord of the manor.
Etal today is a peaceful village, forming part of the Ford and Etal estate, which is very popular with visitors. In 2002 the Ford & Etal tartan was made public, created by the pupils of Ford first school. The river Till has had mills along it for many centuries, and nearby Heatherslaw Mill is still in operation, producing flour as well as containing a bakery and café. A light railway runs from the mill to the village. Etal is perhaps most famously known for its pub the Black Bull, the only thatched pub in the county.