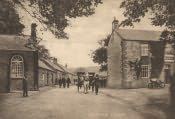 Falstone Introduction
Falstone village, lying within the North Tyne valley, is perhaps mostly associated today as being situated near to the Kielder Dam. The development of the dam however is quite a recent development in the history of the village and the area in general. The village of Falstone is situated on the banks of the North Tyne river, nine miles northwest of Bellingham and 26 miles northwest of Hexham.
The early nineteenth century trade directories name the village as making up part of the township of Plashetts. Falstone parish was created in 1811 when the ancient parish of Simonburn was divided by Act of Parliament. The area around Falstone has a long history. The name Falstone is thought to be a corruption of the Anglo-Saxon word Faeston, or stronghold for securing livestock. Because of the makeup of the landscape, being largely mountainous with wild moorland, stock farming was heavily favoured. Drovers took the stock to the Midlands and beyond, and traces of these roads are supposed to be still visible. Some crop farming took place too, generally clustered near to the rivers and tributaries where there was richer soil. Border warfare was a part of life on these moors. There are numerous traces of ancient Briton dwellings in the area, evidence of an earlier time. Heavily fortified pele towers and bastles also dot the countryside. Lawlessness too played a part here; whiskey making was very popular, and the Excise men used to travel the district trying to catch the illegal activities in operation.
Falstone enjoyed both Presbyterian and Anglican churches in their village. St. Peter's Anglican church was consecrated in 1892 after rebuilding, following a fire at Christmas 1890. The patrons of the church traditionally have been the Commissioners of Greenwich Hospital, who contributed to the costs of building in the nineteenth century. The parish register dates from 1742. In 1843 a stone bridge was erected, incorporating three arches each with a forty-foot span. This bridge connected Falstone to Stannersburn.
At the end of the nineteenth century, it is known that Falstone had a station on the North British railway, extending from Riccarton junction on the line that ran from Hexham to Morpeth. Coal was abundant in the district, with two collieries functioning; freestone and limestone quarries were in operation too. Trades were represented in the village, with a blacksmith, shoemaker, tinsmith, tailor, joiner, and linen man. The parish population in 1801 was 437 people; in 1821 this had risen to 501, and by 1841 the total number of people in the parish had risen again to 560. With traditional industries in decline in the twentieth century, the Forestry Commission moved in during the 1920s and created housing and jobs. This too declined as the century moved on, and today Kielder Water and its seasonal employment is more likely to provide work. Falstone still retains its lovely aspect in a beautiful part of Northumberland.