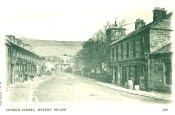 Haydon Bridge is a small town in west Northumberland situated on the A69 main Newcastle to Carlisle road, 7½ miles west of Hexham. Once part of the extensive parish of Warden, from 1879 it has been an ecclesiastical parish in its own right.
There has been a settlement in there since Saxon times and it is said that the name Haydon means enclosure.
The church was founded in the 12th century the building still survives, the chancel dates from this period and the font is a Roman altar. The present church, dedicated to St Cuthbert was built in 1796.
The bridge spanning the Tyne was erected in 1773 to replace the one destroyed by the major flood two years previously. The bridge has always been an important crossing point on the Tyne and during the period of border raids was apparently, on more than one occasion, chained against the reivers.
Haydon Bridge also has connections with the Jacobite risings of 1715 and 1745 for James and Charles, Viscounts Langley and Earls of Derwentwater who lived at Langley Castle, took part in the uprising and were beheaded for treason on Tower Hill in London. Langley Castle is a couple of miles south of the town.
The railway came to Haydon Bridge in the 1830s with the building of the Newcastle to Carlisle railway. This replaced a scheme to build a canal between the two towns. It is also the birthplace of the 19th century painter John Martin.
In 1801 the population was 1084 and by 1851 this had risen to 2085.
This dramatic increase in population can be said to be due to the coming of the railway although the main industry in the area still remained agricultural and never expanded as happened in Haltwhistle further along the river.
Today the town is visited by tourists exploring Hadrian's Wall and it has recently been awarded a major grant to develop the arts [more detail needed here!!]