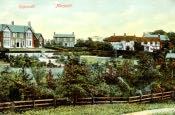 Hepscott is a township and village in south east Northumberland. It lies 3 kilometres (2 miles) south east of Morpeth.
Hepscott originally formed part of the Merlay barony. In 1603 Lord William Howard owned part of the village. A lady described as 'Widow Thompson' was recorded as owning a freehold estate in the village comprising the hall and some adjacent property. This freehold property was then bought by the Wilson family who in turn sold it to the Earl of Carlisle. The Howard family thus became the sole proprietors of property in the village.
The Earl of Carlisle supported the building of a village school in 1874. A Council School was built in the village in 1907 with capacity for 52 pupils. The school closed in 1961 and the 16 pupils were transferred to a school at Stobhill.
Hepscott forms part of the parish of Morpeth. In the 19th and early 20th centuries services were performed in the school chapel.
The Blyth and Tyne railway passed through the township and there was a small station on the outskirts of the village.