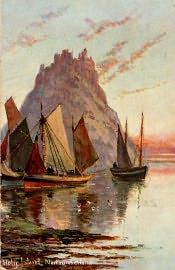 Holy Island, or Lindisfarne, is situated in the North Sea approximately 5 miles northeast of Belford and 9 miles southeast of Berwick-upon-Tweed. It is connected to the mainland by a causeway which is covered at high tide. The island is roughly 2½ miles long and 9 miles around, combining both barren rocky areas with a fertile plan used for farming.
Perhaps most famous for it's history, Holy Island was the place where Christianity was first permanently established in the Kingdom of Northumbria. King Oswald in the seventh century asked the Scots to send him a bishop to teach Christianity. Aidan, a monk from the island of Iona, came and was given Holy Island by the king, where he built a monastery. The king himself assisted Aidan in his work. The sixth bishop of Lindisfarne was St. Cuthbert, and after many years of devotional work to both the islanders and his bishopric he died on the island in 687AD. His successor Eadbert erected the great Cathedral. The two Danish invasions, taking place in the eighth and ninth centuries, brought destruction to the island and an end to its religious glories. The great remaining legacy from this time are the magnificent Lindisfarne Gospels, now held in London. Holy Island remains an important landmark to members of the Christian community and there are still annual pilgrimages to its shores.
The community has always had close connections to the sea and fishing, and James Raine in his 1852 work The History and Antiquities of North Durham noted that 'the village consisted mainly of fishermen and their families'. Shipwrecks have been numerous over the centuries, with newspaper reports from the early 1700s onwards regularly noting loss of both ship and life in the harbour and around the shores.
The village of Lindisfarne is still regarded today as a close-knit community, and maintains a small primary school. In the summer months the island is very popular with visitors, who come to enjoy the shops, pubs and beaches as much as the walks among the ruins from an earlier time of religious greatness.