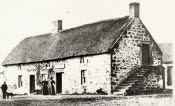 Howtel is a small rural hamlet and township lying close to the Cheviot Hills in northern Northumberland.  It can be found 2.5 miles northwest of Kirknewton and 7.5 miles northwest of Wooler, within Kirknewton parish and Glendale Ward. 
The name Howtel is thought to mean Low Ground with a Holt or Wood.  Situated as it is, in a remote region of moors and hills that make up the Cheviot range, it is possible to find evidence from ancient settlements.  There are a number of camps indicated on early ordnance survey maps, as well as the site of a large find of human bones. 
Howtel would have been in the thick of the centuries of border warfare and raids; there can still be seen the remains of a pele tower.  In the 1580s a committee headed by Sir Henry Hadston, viewed the towers, fortresses and castles in Northumberland and presented the findings to Queen Elizabeth I in 1584.  Within this book mention is made of 'Howtell Towre' as one of the towers that needed repairs.  The first mention made of the tower is in 1541, and even then it was noted that it had been 'rased and casten downe' in an invasion of 1497.  Many times through the centuries the tower is found to be either in ruins or a decayed state through warfare.
Not far from Howtel is Flodden Field, a famous battle site where King James IV of Scotland marched his troops to meet the English in 1513.  The English troops won the day, and the king's colours were taken.
At the close of the nineteenth century it is possible to look at Howtel.  The Alnwick and Cornhill branch of the North East railway passed close by, and the nearest station was at Kirknewton.  Watson-Askew-Robertson was named as the lord of the manor.  There was a Presbyterian chapel, which was built in 1850 to seat 350 people.  The village also had a national school, built in 1875 for 60 children.  The average attendance was 45 and the schoolmaster was Robert Strong.  The census returns for 1891 show that there were 116 people living in Howtel; this represented a slight drop from the beginning of the century when the returns stood at 186.