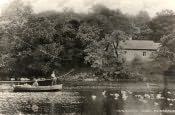 Humshaugh is a township, chapelry and village in the parish of Simonburn. It is 5 miles north of Hexham on the banks of the river North Tyne and not far from the B6318 [Military Road]. The military road is so named because it was built by order of General Wade shortly after the 1745 Jacobite rising to provide a direct and easy passage for troops between Newcastle and Carlisle.
The name Humshaugh [pronounced Humzoff] means low ground by the river settled by Hun.
An interesting story in the history of Humshaugh is the part the paper mill played in the war against Napoleon. In 1793, just 5 years after the mill had been set up; the British Government came up with a scheme to devalue the currency of revolutionary France. A number of paper mills in remote parts of the country, including that at Humshaugh, were commissioned to make paper to be used in the printing of forged Assignats. [Assignats were the currency issued by the revolutionary government of France] The forged notes were sent to Flanders with the British Army under the command of the Duke of York. One of the moulds for making the paper still survives and is in possession of Society of Antiquaries of Newcastle upon Tyne.
In more recent centuries, the church, which is dedicated to St Peter, was built in 1818 and was designed by the famous Newcastle architect John Dobson. It was built in the gothic style and has a belfy with one bell. The railway came to Humshaugh in the 1830s with the building of the Newcastle to Carlisle railway.
In 1801 the population was 267 and by 1851 this had risen to 446. the coming of the railway may, in part, be the reason for this increase.
At the end of the 19th century Humshaugh was regarded as a peaceful rural village but one which had a number of commercial enterprises including drapers, shoemakers, a miller, joiner, tailor, blacksmith and interestingly a surgeon who acted as a vaccinator to Humshaugh District. At this time crossing the river Tyne was done by means of a rope-pull ferry, John Batey being the ferry owner in 1897.
Humshaugh also has connections with the Scouting movement for in 1908, between 22 August and 4 September, Lord Baden-Powell held the first formal Scout camp near the village.