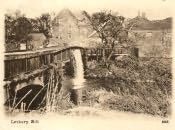 Lying in the heart of the Northumbrian coastal plain, in the middle of the county, Lesbury is a small rural village situated on the north bank of the Aln river, within a parish of the same name.
Just 3 ½ miles southeast of the town of Alnwick, and on the main coastal road, Lesbury has had a long history of settlement. It stands within the lands of the Percy family, Dukes of Northumberland, and includes Lesbury House, a former property of the family. At the end of the thirteenth century it was recorded that there were 13 people eligible to pay tax. Lesbury at that time, with no great wealth or landmarks to attract attention to itself, seems to have escaped the worst of the border warfare which rampaged for centuries.
The Anglican church of St. Mary is thought to have been built on the original Saxon site. The present church is of Norman origin, and it is first mentioned in records in 1147. There have been many alterations over the centuries, with extensive restorations taking place in the nineteenth century. The work was undertaken by Anthony Salvin, an architect employed by Algernon, fourth Duke of Northumberland. The Duke paid for the costs of the restoration. Designed in the Early English style, the structure includes an embattled tower. The church register dates from 1691.
In 1718 Henry Strother bequeathed a piece of land for the purpose of endowing a school at Lesbury. The costs for the schoolroom, and the master's house to accompany it, were again met by the duke.
By 1897, Lesbury was described as having a reading room with a library of 500 volumes. A large corn mill was still in operation too. The Percy hounds were kept here, and the master of the hounds at that time was Addison Francis Baker-Cresswell. Earl Percy was the principal landowner in the area and the lord of the manor.
Today Lesbury remains a small rural village, sitting only half a mile from the railway station at Hipsburn, an important transport connection for the people of mid-Northumberland. There are active community groups, and outdoor bowling is enjoyed. The Coach Inn is the public house for the village, serving locals and tourists alike, while nearby Ratcheugh hosts the annual point-to-point races.