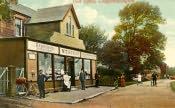 The village if Longframlington is situated 11 miles North West of Morpeth and five miles South East of Rothbury. The manor was originally held by the Eslington family. The family became extinct in the reign of Henry VIII and the estate was sold off in Lots. By the middle of the nineteenth century, the village was the property of the Duke of Northumberland and a number of different freeholders.
Walter de Framlington built Longframlington Church, St. Mary the Virgin, around 1190. It was originally dedicated to St Mary and St. John the Baptist, but by the time of the Reformation in the sixteenth century, it had become a single dedication. It was a part of Felton Parish served by a curate, but in 1891 in was created into a parish church. One of the finest features of the church is the Norman chancel arch, with three detached pillars on each side. Due to similarities in the features, it is believed that the builders of this church were also responsible for Brinkburn Priory situated two miles away in the loop of the Coquet. William Bertrum, first Baron Mitford, founded the priory at the end of the 12th century. His master mason was Osbert Colutarius, who built many churches throughout Northumberland. It passed into lay hands after the dissolution of the monasteries and then fell into neglect until the Cadogan family restored it in the nineteenth century. Today it is managed by English Heritage and open to the public in the summer months. It is also the venue of the Brinkburn Summer Music Festival, an annual event held over two weekends in July.
There is also a Presbyterian Chapel in the village which was rebuilt in 1854 on the site of an earlier chapel built in 1739. Longframlington is believed to have had one of the earliest Presbyterian congregation in the country dating back to early seventeenth century when a Mr Hesilrige held meetings in his own house. The Chapel became a URC Church in 1972 when the Presbyterian and Congregational Churches united.
Another notable building in the area is Embleton Hall. Built in 1730 by Thomas Embleton as a county house, it was bought by the Fenwick family in 1780 and extended 110 years later. It was bought in 1986 and converting into a country house hotel.
In the early 1900s, Longframlington was a substantial village, having many more shops than there are today, several public houses, including the Granby, and a thriving village school. The school was built in 1826 when Mrs Tate made an endowment of £500 to provide for the free education of twenty poor children. The school, which was rebuilt in 1878 by voluntary subscription, finally closed in 1953. The village children have been bussed into Swarland and Rothbury since the closure. The villagers at this time were mainly agricultural workers, although many men were employed in the pits at Hampeth, Healeycote and the Lee.
Today, Longframlington is primarily a residential village, and those who live in the village are either retired or commute to the south of the county or Tyneside. Longframlington has continued to grow in size with the building of several new housing estates in the 1970s and later. There are several small business in the village, including Dennis Common's garage which employs more than twenty staff. With the builiding of Cheviot Lodge estate in the 1970s and later Harecross Park,