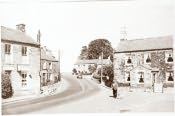 The village of Longhorsley is situated seven miles northwest of Morpeth and 14 miles south from Alnwick. It is bordered on the north by the river Coquet and lies on the Morpeth to Wooler road [A 697]. The village formally lay in three separate townships, which were known as Bigge's Quarter, Freeholders Quarter and Riddells Quarter.
Longhorsley's most notable feature is Linden Hall, a country hotel, restaurant and leisure complex, which was, for 180 years, a private home. Charles William Bigge, a member of one of Northumberland's most notable merchant and banking families, built Linden Hall in 1812. He had acquired the estate from the Earl of Carlisle, whose family had held it since the time of Henry I. His close friend, Sir Charles Monck, designed the mansion, which consisted of six large rooms on each floor, a sweeping staircase with a domed lantern above, and a basement in the main hall. In addition there were kitchens, servants' quarters, a schoolroom, a brew house, a slaughterhouse and stables. In 1861 in passed from the Bigge family into the hands of the Ames, who held it until 1904, when it then passed to the Adamson family. The Hall was purchased in 1978 from John Liddell and opened as a first-class hotel three years later.
There are two churches in the village: the Anglican church of St Helen, which has registers dating from 1688, and the Roman Catholic Church, St Thomas of Canterbury, which was erected in 1841. Before the Catholic Church was built, the parish was served from the pele tower which stands adjacent to the present church. The pele is a large tower of four storeys which was built approximately 500 years ago by the Horsley family of Brinkburn. It is now a private residence.
One of Northumberland's most famous heroines lived in the village of Longhorsley. She was Emily Wilding Davison who is notable as the suffragette who was killed after throwing herself in front of the King's horse in the Derby of 1913, while campaigning for women's right to vote.
It was reputed that Thomas Bell developed the world's first self-raising flour in Longhorsley village shop. Bell founded a wholesale grocery business near the Tyne quays in Newcastle in the 1880s. One of his best selling brands was a self raising flour he called Bell's Royal. He was forced to change it to Be-Ro after it became illegal to use the Royal name following the death of Edward VII in 1910.
Today the population of Longhorsley is approximately 500 and is essentially a residential community for those who work in South Northumberland and Tynemouth. Mr Green, the village butcher, has found fame in recent times with a mention in the Sunday Times for his variety and quality of sausages. Longhorsley's main visitor attractions are the aforementioned Linden Hall and the Burgham Golf Course, which also includes leisure facilities and a restaurant.