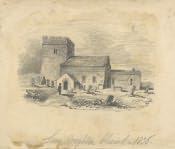 Longhoughton is a small rural village situated in the middle of the county, on the productive Northumbrian plain that runs down from the Cheviot Hills to the North Sea. It lies near to the coast, 4 ½ miles east and north of the town of Alnwick. The village stands in the parish of Longhoughton.
This township has a long history, well known for its troublesome times. Medieval records of the area, through the thirteenth and fourteenth centuries, show at differing times that Longhoughton was either intact as a township and producing revenue, or nearly in ruins. Mills have been recorded as working in the area since the twelfth century, both water and corn.
The parish church of St. Peter and St. Paul, contained within the deanery of Alnwick, was consecrated in the Saxon era. The chancel arch and parts of the tower arch are Saxon features that remain today. The church was rebuilt in 1080 incorporating a large embattled tower, standing nearly 45 feet high, for defence of the parishioners. The church was used in this way until into the seventeenth century. The parish register dates from 1646. Nicholaus Pevsner, in his architectural review of Northumberland, noted that the church gave an air of importance to the village.
Nearby is impressive Ratcheugh Crag, a whinstone outcrop. Sitting on the top is Ratcheugh Observatory. Built by Hugh Smithson, First Duke of Northumberland to a plan by Robert Adam, the observatory was a popular stopping-off point for the first duke and duchess during carriages drives around their estate in the eighteenth century. Today Ratcheugh is a regular setting for local point-to-point racing.
Also near to Longhoughton is Boulmer, today the location of an RAF station. The parish church serves as the church for this station. In earlier times, Boulmer was widely known as a lawless place as well as a smuggler's haven, and the church was popularly known to have been used as the distribution centre for the smugglers' operations.
Longhoughton is long and winding in its layout, containing houses on roads named North End and South End. It once had a station on the main line of the North Eastern railway, and a limestone quarry employing around 100 people. Coal and lead could also be found in the district, which generally has a strong agricultural base. Census information for the nineteenth century shows a modest increase in numbers of people living here. Today Longhoughton continues to be a rural village in a peaceful setting, belying the turbulent past it once endured.