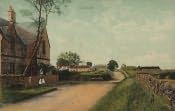 The rural village of Lowick can be found in the northern part of Northumberland, 470 feet above sea level, approximately 9 miles south of Berwick-upon-Tweed and 7 miles northeast of Wooler. The ancient road used by the monks of Lindisfarne to Durham crosses the Roman Road called the Devil's Causeway here - it was at these crossroads that Lowick began to develop.
Lowick village stands in the centre of its parish, which carries the same name. The Anglican church of St. John the Baptist, built in the early English style, is the parish church. The present building dates from 1794, and was added to in 1887, the chancel and vestry work being carried out by F. R. Wilson, who also worked for the Percy family, Earls and Dukes of Northumberland. A church has stood on the site since the twelfth century; the monks of Lindisfarne built the Norman chapel here when the ancient parish was sub-divided. The register for the church dates from about 1720. There is also a long history of Presbyterianism here; both Scottish and English Presbyterians had premises at Lowick. The Scottish congregation has been in existence since 1662, formed by Rev. Luke Ogle, who resigned as minister at Berwick as a consequence of the act of uniformity and retired to nearby Bowsden. This congregation is one of the oldest non-conformist groups in the country.
Population figures for the nineteenth century show an increase of people living in Lowick. In 1851, 720 people were counted; by 1891 this number had risen to 1,310. Longevity of age was a boast in the early 1800s; at one point there were believed to be more than 60 people receiving parochial relief aged between 67 and 102.
Moving towards the end of the 1800s, Lowick had a National School and a Subscription School, with a combined average attendance of 127 pupils. The soil in the area was of a clay, loamy makeup, and the chief crops were barley, oats, peas, beans and turnips. Coal pits and stone quarries were said to abound in the area though the lime industry was by this time in decline.
Lowick today remains a rural community which enjoys a peaceful location in an attractive area of the county.