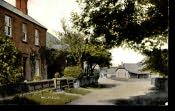 Milfield village is a small rural community situated in the northern part of the county. Its geographical location is approximately 6 miles northwest of Wooler and 3 miles northeast of Kirknewton, on the Wooler to Coldstream road. It stands within the parish of Kirknewton. The landscape changes in this area, from the romantic Cheviot range of hills, descending eastward down to the extensive Milfield plain. This plain is agriculturally rich in its makeup, and there is a ring of settlements that surround it, Milfield being one of them.
The Saxon king Edwin built his palace of Meldrum here. Traces of it can still be seen but apparently only from the air. Meldrum continued to be used as a place of residence by the Saxon kings of Bernicia after Edwin's death in 632AD. Much later, nearby Homildon Hill was the setting for a battle between the forces of the Scottish Earl of March and the English Earl of Northumberland with his son Henry Percy, more famously known as 'Hotspur'. The battle is well known today for being won by the talents of the English archers.
A visitor to Milfield around the year 1800 would find a self-sufficient village, with all the necessary trades represented, including a general shop, post office, baker, saddler, blacksmith and joiner. The population in 1801 was 193 people. Milfield continued to expand at a modest rate for a time; in 1841 there were 225 people living in the village, however by 1891 the total number had declined to 172. A primitive Methodist chapel and accompanying manse were constructed in the 1850s, using stone from nearby Doddington quarry. In the 1860s a non-denominational school was erected to educate both boys and girls. Later on, a reading room was built by public subscription at a cost of £300 and boasted a library of some 600 volumes. The building also included a billiard table, for the use of men only. The Grey family lived nearby at Milfield Hill. George Grey worked with the Culleys on agricultural reform in the nineteenth century; the Victorian social reformer Josephine Butler was born here.
Milfield today is a quiet community in a picturesque area of the county. It enjoys passing trade from people touring in Glendale. The Maelmin Heritage Trail is a recent innovation, where visitors can see what life in the Cheviot Hills was like through the ages, as well as a reproduction of a wooden henge. Nearby, the Country Café and Store beckons visitors to stop and enjoy the village.