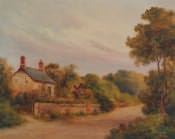 Ovingham is a parish and village in the Tyne Valley in south Northumberland. It lies on the River Tyne 16 kilometres (10 miles) east of Hexham.
Until the early 20th century the village was dominated by three estates, the owners of whom were the Duke of Northumberland, the Bedlington family and the Bigge family. The Earls (later Dukes) of Northumberland have held lands in the village since the 15th century. The Bigge family owned property in the village from around 1740 but sold it in 1919. The Bedlington estate was sold in 1928 following the death of William Bedlington.
Ovingham is an ancient parish. It is thought that the church was consecrated about 1050 and that it was partially rebuilt shortly after 1066. The church was restored in the 13th century and two further restorations took place in 1857 and 1873. The church is dedicated to St. Mary. The famous engraver Thomas Bewick was baptised at Ovingham parish church on 19 August 1758. He attended school at Ovingham and is buried next to his wife in Ovingham churchyard.
A village school was established in 1816. The school and the adjacent master's house were paid for by public subscription on land donated by the Duke of Northumberland. The original school building is now used by the village scouts.
In November 1771 much of the Tyne valley was flooded. Many settlements along the riverside were devastated with the loss of lives and material possessions. At this time there was no bridge across the river at Ovingham. Instead locals used a ferry service operated by the Johnson family. As the river rose there were ten people inside the boathouse - the ferryman John Johnson, his wife, his two children, his mother, his brother two servants and two other males. The boathouse was swept away and the force of the river carried the group away. Only John Johnson and his brother survived.