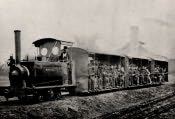 Pegswood is a small village and township to be found in mid-Northumberland two miles northeast of Morpeth. It stands within the parish of Bothal and the rural deanery of Morpeth. Pegswood in history has also been known by the name Pegsworth, which in Old English is thought to mean the enclosure round a homestead of a gentleman called Pecg.
Traditionally always a small settlement, Pegswood was recorded as having only 10 cottages in the eighteenth century; some of these survive still. The area contained two collieries early in the nineteenth century, which were leased by a John Mitchell, but it was when the Pegswood colliery was sunk later in the century that the village began to spring up around it. Pegswood Colliery, in a newspaper article from 1873, is described as employing 160 hewers, turning out 380 tons of coal. A second shaft was in the process of being sunk, and it was observed that houses were springing up in the area. The colliery manager at this time was a Mr. Gibson. Colliery houses were built for the workforce, noted as being well built but basic; electricity came to the houses in the 1940s and the National Coal Board modernised them in the 1960s.
The population of the village is reflected by this growth in mining. In 1801 the number of residents noted in the census returns was 158. Twenty years later it had hardly altered, standing at 155 people living in Pegswood. However, the 1891 census information tells that the village now consisted of 1,400 people. Shortly after this, Wesleyan and Primitive Methodist chapels were constructed, though other denominations still had to travel to Morpeth to worship. The Duke of Portland was the sole owner of the village and lord of the manor at the close of the nineteenth century.
Today Pegswood is still a modest-sized community. Recently the first school in the village created a tapestry based on features about Pegswood that they enjoyed. A new football pitch has been created as well as a new park, and Pegswood is a part of the Ashington Education Achievement Zone. A grant has also made possible research into the songs, music, poetry and stories of the Morpeth and Pegswood area.