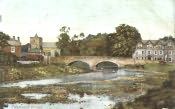 Ponteland is a town which can be found in the southern portion of Northumberland, just over 7 miles northwest of Newcastle. It stands in a parish of the same name, in the rural deanery of Corbridge. This district is agriculturally rich with the added benefit of good pasturage; it also contains coal and lime deposits. The river Pont passes through the town, and there is a stone bridge of two arches over it. Ponteland takes its name from the river flooding so often and extensively that it often left the village as an island. A slightly different story is that the Romans claimed to have named Ponteland, meaning Bridge over the Swamp. Hadrian's Wall is only a few miles to the south and there is Roman evidence, such as forts, in the area.
The Anglican church of St. Mary the Virgin at Ponteland appears to have been consecrated around the year 1150. There are some remaining sections that date from the Norman period, including part of the tower. It was restored to a large degree in the thirteenth century, again in the fifteenth century, and several times since. It is thought to have stained glass dating from the fourteenth century, and a pre-Reformation bell. The register dates from 1602.
It is popularly held that the opposing forces of England and Scotland negotiated a peace here in 1244. The Blackbird Inn, once the manor house of the Errington family, includes part of a pele tower where the truce took place. The vaulted chamber attached to this building formed part of the ancient castle of Ponteland. Portions of the castle are still in relatively good condition. It was said to have been destroyed by Douglas during the border wars in the late 1300s; Douglas was pursued by Henry 'Hotspur' Percy which culminated in the battle of Otterburn.
Population figures for the nineteenth century see Ponteland showing a modest growth. In 1801 there were 327 residents. Twenty years later this had only slightly risen to 358, and the last census of the century returned 405 people in the village. The coming of the railway and improved roads in the twentieth century spelled a massive rise in population for Ponteland. It became possible to work in the city of Newcastle but live outside it, in more pleasant surroundings. Industry and travel were offshoots of this improvement in transport. More recently, the building of the airport a short distance away and its subsequent expansion has made Ponteland, with its many amenities, has brought more people to the town. With the main road A696 passing through, the town is regularly enjoyed by visitors too.