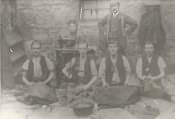 Nestled near to the foot of the Cheviot Hills, the village of Powburn is a small rural community, often associated with its nearest neighbour Glanton. It is situated within the large parish of Whittingham, 9 miles southeast of Wooler and just south of the borough of Berwick-upon-Tweed. The busy A697 cuts a path through the middle of the village.
There is more than one translation for the naming of Powburn, among them 'slow-moving stream'; another suggests that the settlement that grew there was situated near to a pool in the burn. Powburn today is situated near to the Breamish river. The Devil's Causeway, which was the roman road extending from north of Corbridge to Berwick-upon-Tweed, crosses the Breamish at Powburn on its way north; on the top of one of the hills above the village are traces of a fort that once stood to guard the passage along the causeway. Glanton Pyke, standing at 695 feet, rises above Powburn and separates the Breamish and Aln valleys.
As Powburn was a small community, its religious needs were served by nearby churches. A Presbyterian chapel was erected in 1786 at Glanton and a Catholic Church built at Whittingham in 1881. St. Peter's Anglican church at Glanton, itself a daughter church of St. Bartholomew's at Whittingham, was built in 1891, originally as a mission room and Sunday school.
As the beginning of the twentieth century approached, Powburn was described as a hamlet within the township of Glanton. Its nearest railway station was Hedgeley, one quarter mile away, on the Alnwick and Cornhill branch of the North Eastern railway. William Cornforth is listed as the station master. The children of the village attended school at either Glanton or Branton; the average attendance at the school in Glanton was 120, and the schoolmaster was James Greig. The village was portrayed in the 1950s as a 'lively little main-road village'. Today Powburn retains its peaceful location, near to the Cheviots and the Northumberland National Park; it is a popular area with walkers who come to enjoy the outstanding natural beauty of the district.