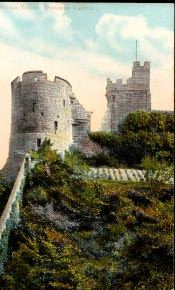 Prudhoe is a small town in west Northumberland situated on the A695, 10½ miles east of Hexham. It is situated on a hill on the south bank of the River Tyne and was originally part of the parish of Ovingham. In 1880 the church of St Mary Magdalene in Prudhoe was erected and in 1881 Prudhoe became a Chapelry of the parish of Mickley. John Wesley visited Prudhoe on a number of occasions and in 1871 and 1898 two Wesleyan Methodist Chapels were built.
There is evidence of occupation since the Bronze Age as 2 burial cists and a stone axe head have been found in the area.
Prudhoe and its castle, which was built by the Umfraville family, have had a rather violent past: In 1173 and 1174 it was sieged by King William of Scotland and during the English Civil War it was occupied by both Parliamentarians and Roundheads. Since the 14th century the Dukes of Northumberland have been the Lords of the Manor. In 1816, Algernon the 4th Duke became Baron Prudhoe but the title became extinct when he died in 1865.
Communication between Prudhoe and the rest of the region was improved with the construction of the Gateshead to Hexham turnpike road in the late 17th century. The Dr Syntax Inn in Prudhoe became an important staging post. The building of the Newcastle to Carlisle railway in the 1830s, whilst improving the links with the rest of the county caused a decline in the amount of coaching traffic and so the Inn soon closed. In addition before the bridge crossing the Tyne was built in the 1880s the only way to cross the river to the mother parish of Ovingham was by ferry or ford.
Until recent decades Prudhoe was the site of much coal mining activity and a number of associated industries. Coal mining in the area was first mention in the 15th century but it was not until the 1860s that the industry flourished. In this decade, two coalmines were opened. It also was discovered that the coal was excellent for making coke and consequently coke ovens were built to undertake this. As the coal was mined, clay was dug from the seams and this led to the brick and pipe making factories being established.
The development of coal mining and the associated industries led to a dramatic rise in the population. From 1801 when the first population census was taken, the population of Prudhoe was 380. By the middle of the century in 1851 the population had slightly increased to 488 but 20 years later when the after the mines had been established the population had escalated to 2583.
Today heavy industry in Prudhoe has all but gone but regeneration is ongoing. A riverside county park has been created which runs from Prudhoe to Newburn a few miles down river. Facilities for a whole range of leisure activities have been developed including fishing and canoeing. Prudhoe is also the home of the metallic paint 'Hammerite'