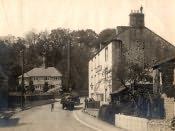 Riding Mill is a township in west Northumberland situated on the south bank of the River Tyne where the March Burn enters the River Tyne and just east of Hexham. It stands at the junction of a ford over the River Tyne and the Roman Road Dere Street. Like Stocksfield, it is part of the ecclesiastical parish of Bywell.
The mill referred to in the name is a water powered corn mill which, it is believed, has been in use since the 12th century.
Riding Mill does have a church, which is dedicated to St James. It was built in 1858 as a Chapel of Ease to the parish of Bywell St Andrew. This meant that parishioners in Riding Mill which was some way from the parish church in Bywell could more easily attend services.
The church of Bywell St Andrew has its origins in the 8th century and is called the White church as it originally belonged to the White [Premonstratensian] canons of Blanchland. Bywell's other Church, St Peter, has its origins in the 12th century and is known as the Black church for it belonged to the Black [Benedictine] monks of Durham.
The railway came to Riding Mill in the 1830s with the building of the Newcastle to Carlisle railway. The station, which is still in use for passenger traffic is one of the oldest in the world.
Later in the century in 1871 a public elementary school with places for 120 children, was built. In 1897 however, the average attendance was only 84. Interestingly, at the same time, the school had attached to it, a library of over 200 books. One of the main residences in the area was 'The Riding' in which in 1897 Mrs Guiry lived.
In 1801 the population was 105 and by 1851 this had increased slightly to 151.
Today Riding Mill is a thriving community. Many inhabitants commute to Newcastle and there are a range of local facilities including a shop and a post office, a school, St James' Church and a Methodist chapel. There is also a cricket pitch and tennis courts.