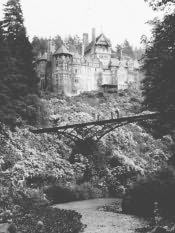 Rothbury is to be found in the picturesque Coquet Valley, with the river Coquet running through the heart of the town. It is situated 15 miles northwest of Morpeth and 12 miles southwest of Alnwick, near to the Simonside Hills.
Rothbury is an ancient barony, though from 1095 it was held by the crown. It passed through various owners before coming into the hands of the Percy family in the 1330s. The town was surrounded by the ancient forest of Rothbury, which covered several acres in more than one direction.
Tradition states that the Jacobite rebellion of 1715 began in the neighbourhood of Rothbury. Thomas Forster and the Earl of Derwentwater travelled from their homes, mustering support along the way, and rested for the night at Rothbury. The town continued to be a Jacobite centre, with reports of spies continuing for a time after the rebellion had been crushed.
In the 1750s the 'corn road' which ran from Hexham through Rothbury to the port of Alnmouth was promoted. The increased traffic proved too much for the old stone bridge, and in 1759 it was decided to widen it. The eighteenth century also saw terrible fires in the town, and in 1788 Rothbury was presented with a fire engine, the control of which fell to the rector and churchwardens.
By 1827 Rothbury was described as a small market town of about 900 inhabitants. At this time the whole of the town lay on the north side of the river. In 1863 Sir William Armstrong bought a large estate encompassing the Debdon Valley, naming it Cragside. The house is famed as being the first private home to be lit by hydro-electricity. Rothbury underwent many improvements from the 1860s onward, with the coming of the Northumberland Central Railway in 1870. The Jubilee Hall, still a vital part of this community, was built in 1887, the £760 needed being raised by subscription.
Rothbury stands in the heart of an agricultural area, and in the past was the site of regular markets for the sale of livestock. The Coquet is well known as an outstanding river for fishing. The town itself is very popular with visitors, particularly in the summer months, and there is an annual festival held in July.