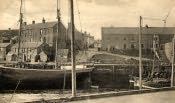 Seahouses stands on the edge of the North Sea in mid-Northumberland, 8 miles south east of Belford. It was developed as the newer, seaward end of North Sunderland. The area is made up of clay and sandy soil, with a clay and rock subsoil. Crops in the surrounding fields at the end of the nineteenth century included wheat, oats, barley, turnips and potatoes.
This village's prominent feature is its harbour. Built by Lord Crewe's trustees at a cost of £25,000 and opened June 25th 1889, it was claimed that it could take 300 fishing vessels. There were a large number of lime quarries excavated to the south of the village. Mines to the west and north provided the coal for the burning of the lime. The building of the harbour provided this industry with a means of transportation. Grain was also exported during this time. Then a private branch railway was constructed to connect with the main east coast line via Chathill. The coming of the railways signalled a decline for these industries, but allowed the fishing industry to grow and thrive.
Herring fishing and curing became a major force in the life of Seahouses. During the summer months the harbour would be crowded with boats, both of local fishermen and from as far away as the Hebrides, Shetland Islands, and Cornwall. When the fishing fleet was in there could be difficulties for any other type of vessel wishing to find a berth in the harbour. A lifeboat station was also established here by the Royal National Lifeboat Institution; at the end of the nineteenth century the boat stationed here was named the 'James Bewick'.
The decline in fishing as the twentieth century drew to a close found many of the boats plying a trade in tourism, offering sailing trips to the nearby Farne Islands. Seahouses today is a very popular resort for the people of Northumberland and visitors alike. The summer months see a packed village with people enjoying the lovely harbour and boat rides, as well as the many shops and amenities geared to the tourist industry.