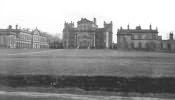 Seaton Delaval is a township and village in the parish of Earsden 3 miles SW of Blyth in the county of Northumberland. The Delaval family has been associated with Seaton, later Seaton Delaval, since the 12th century. The first member of the Delaval family to come to England is believed to have been Hamo de la Val who came across from France with William the Conqueror. However, by the beginning of the 18th century the family had fallen on hard times and it was Admiral George Delaval (1660-1723), a distant cousin who lived at Dissington, north of Newcastle upon Tyne, who bought Seaton Delaval from his poorer relations. He was a wealthy man and asked Sir John Vanbrugh, the architect, to consider rebuilding the existing hall at Seaton Delaval. Vanbrugh declined but agreed to build an extravagant new mansion. Admiral Delaval did not live to see the mansion completed as he fell from his horse in 1723 and died. The mansion was completed in 1729 at a cost of £10,000. The hall was occupied by the Delaval family until 1808 when Lord John Hussey Delaval died. It was inherited by his unmarried brother Edward, the last surviving Delaval in the male line, who died childless in 1814 and was then inherited by Sir Jacob Astley of Melton Constable, nephew of Sir John Hussey Delaval. The Hall continues to be a great visitor attraction not only for Seaton Delaval but as one of the important architectural treasures of Northumberland.
In the grounds of the hall is a Norman chapel dedicated to Our Lady built in approximately 1102 and retaining several Norman features in the nave, choir and presbytery. It was the private chapel of the Delaval family as well as members of the household and manor.
Seaton Delaval colliery opened in 1838 and men came from far and wide to work there. As a result of this influx of miners, rows of 'pit' houses were built to accommodate the workers and their families. In 1902 it is recorded that 3091 men worked at the colliery. Throughout the 19th century in Northumberland when a pit was opened and a community built up around it other buildings were erected too. Seaton Delaval is a typical example of this type of community expansion. A Miners Institute was built as well as churches and schools. In the early 1870s Seaton Delaval Coal Company opened a school in the old Weslyan Chapel. Seaton Delaval also had its own railway station and had links with Newcastle upon Tyne and Blyth. However, due to the decline of the northern coalfield, by 1960 both the pit and the station were closed.
These days Seaton Delaval has a population of approximately 3500 and its major employer is Proctor and Gamble. Many people still come to see Vanbrugh's outstanding contribution to the neighbourhood at Seaton Delaval Hall.