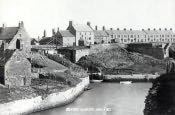 Seaton Sluice is a small village and seaport at the very southern border of the Northumberland coastline at the mouth of the Seaton Burn 3 miles SE of Blyth. The present village is made up of two separate villages, Seaton Sluice and Hartley, which have, over the years, gradually merged into one village. Before the 16th century the village was known as Hartley Pans because salt production had been established there however, the salt was shipped from the port of Blyth. In the late 17th century Sir Ralph Delaval built a sluice at the harbour mouth as the coal and salt trades were increasing and the harbour was too shallow and small to cope with the higher demand. In 1764, once again to facilitate the burgeoning coal trade, Sir John Hussey Delaval and his engineer brother, Thomas, created a new entrance to the harbour mouth by blasting an opening out of solid rock. 'The Cut' was one of the most important engineering feats of its day and can still be seen at Seaton Sluice.
Throughout the late 17th as well as the 18th and 19th centuries Seaton Sluice owed its success and prosperity to the Delaval family of Seaton Delaval. Other than the coal industry the Delavals were involved in glass making and export, copperas production (a bi-product of coal mining used to colour glass), salt was still produced and exported from Seaton Sluice and as a result of all this economic activity the community expanded and a granary and brewery were built. The glassworks were established in Seaton Sluice in 1763 and all the requirements for the manufacture of glass were on hand such as sand, kelp, coal as well as copperas and the improved harbour. Bottles from The Royal Hartley Bottleworks were transported all over the British Isles. It is said that John Wesley preached from the steps of the old granary in Glassworks Square in1744. The glass 'cones' were demolished in 1897.
In 1897 a Mechanics Institute was built and in the same year the school had a capacity of 214 children but by 1925 it had been expanded to accommodate 452 children.
These days Seaton Sluice is a quiet village which has an important industrial heritage. Small fishing boats can be found using the harbour and it is still possible to walk along the banks of the Seaton Burn although there is little physical evidence of this industrial past despite the fact 'The Cut' still stands at the harbour. The beach is still a popular destination. There are several pubs in Seaton Sluice and many of them retain names with links to the Delaval family such as The Delaval Arms, The Astley Arms (Astley being the name of the decendents of the Delavals) and The Melton Constable which is named after the southern seat of Lord Hastings, direct descendent of the Delavals.