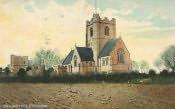 Shilbottle, anciently known as Shilbotel, is a village in mid-Northumberland lying within a parish of the same name. It is located three miles southeast of Alnwick, close to the North Sea. It was described early in the nineteenth century as being situated 'in a pleasant and healthy situation, upon an eminence in a fine open country'. The village itself is grouped around a series of fields as opposed to a village green. Some older cottages remain, but much was altered in the twentieth century, and building is continuing today to expand the amount of available housing. The soil in the area is of a clay nature, with a subsoil of lime and freestone. At the end of the nineteenth century the chief crops being produced were barley, beans and peas. What Shilbottle was known for over a long period of time, however, was coal.
Coal mining appears to have begun in the district in 1728. It grew until by the end of that century there were six shafts operating, all centred around Blue Lodge Farm, also known as Colliery Farm. Early in the twentieth century, the Co-operative Wholesale Society, or C.W.S., purchased Shilbottle Colliery for £50. The society set about an extensive upgrading of the site, and by 1926 the first of the new coal had been drawn for sale. A new village of 170 houses had been created too, including some cottages designed for aged miners. The society was ahead of its time, and Shilbottle Colliery was the only pit in the area where the workers were provided with a week's holiday with pay, and a pension scheme. The National Coal Board took over after the war, and production continued until its eventual decline in the 1970s. The pit was closed finally in 1981, and the workforce transferred to nearby Whittle.
St. James is the local Anglican church, and was built in 1885 on the site of an earlier church, at a cost of £4,000. It was constructed in the Early English style. The church register dates from 1681.
Shilbottle today is in a process of regeneration. In 1995 the Friendly Frogs pre-school playgroup was formed, followed in 2000 by the Skills Centre. The traditional village gala was also recently resurrected. In addition, a village forum has been established in recent times, to aid in the regeneration process and help secure funding for local projects.