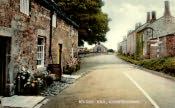 Stamfordham is a parish and village in mid Northumberland. It lies on the River Pont 19 kilometres (12 miles) north west of Newcastle upon Tyne and 21 kilometres (13 miles) east north east of Hexham.
The village of Stamfordham forms part of the township of Heugh. The Swinburne family have had a long association with Stamfordham and the wider geographical area. In 1399 Sir William Swinburne purchased lands in the township and the family's association with the area continues to this day.
The first recorded reference to a church at Stamfordham dates back to 1220. The church was rebuilt in 1848 to a design by Benjamin Ferrey. Much of the original
stonework was used in this restoration. The church is dedicated to St. Mary. Like many other churches in Northumberland, the church at Stamfordham has had a turbulent history. Proximity to Scotland made the church vulnerable to attack. In 1374 livestock belonging to the vicar of Stamfordham was stolen and his servants were attacked. At the outbreak of the Civil War, the vicar, Thomas Stevenson, was imprisoned and had his possessions seized several times.
There is a strong history of Presbyterianism at Stamfordham. In the 17th century Presbyterians met in a cottage at neighbouring Dalton. In 1742 a Presbyterian meeting house was built at the east end of village. In 1860 the congregation moved to new premises in the middle of the main street. This was originally a private house and was converted for use as a meeting house. The village does not have a Roman Catholic church but is served by the chapel at Cheeseburn Grange, a large private house in the township of the same name, that forms part of the parish of Stamfordham.
In 1663 Sir Thomas Widdrington founded a school at Stamfordham. The school provided free education for all of the children of the poor of the parish. However, parents had to provide books and make a financial contribution towards fuel for the fire in winter. Attendance was erratic. It was reported in the early nineteenth century that '... in winter, the average number is between sixty and seventy, and in the summer between thirty and forty'. This may have been because the school served a largely agricultural community and it was common practice for children to work with their parents during busy periods in the agricultural calendar.