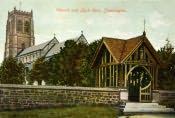 Stannington is a village and parish in southeast Northumberland. It lies on the River Blyth, approximately 7 kilometres (4.5 miles) south of Morpeth.
The Ridley family have had a long association with the village. In 1742 Elizabeth Ridley married Matthew White. The White family were Newcastle merchants who owned lands at Blagdon, a township in Stannington parish. Sir Matthew White was created a baronet in 1756 and was succeeded by his nephew Sir Matthew White Ridley in 1763. The Ridley family were raised to the peerage in 1900 when Sir Matthew White Ridley (1842-1904) was created Viscount Ridley and Baron Wensleydale.
Blagdon Hall, the Ridley family seat, was built in 1735. It was enlarged in 1830 to designs made by Ignatius Bonomi, the famous 19th century architect. At the beginning of Word War 1 the Hall became the regimental headquarters of the Scottish Horse. In 1944 there was a fire at the Hall and the subsequent renovations restored the Hall to its original proportions.
The parish church is dedicated to St. Mary. The original church was erected about 1190. A new church was built in 1871. Some of the stained glass in the new church was rescued from the earlier building. The total cost of the new church was in the region of £6000. The Earl of Carlisle who owned property in the township until 1889 contributed £1000 of this. The Ridley family contributed £4000 with the remaining £1000 being raised by the trustees of Netherton Reformatory which lay within the township and by public subscription.
Stannington was also the venue for two hospitals - Stannington Children's Hospital, (formerly known as Philipson's Colony), the first children's T.B. sanatorium in the country and St. Mary's, formerly the Gateshead Lunatic Asylum. Both hospitals closed in the recent past.