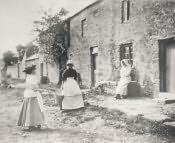 Stocksfield is a hamlet in west Northumberland situated on the south bank of the River Tyne just east of Hexham. It is part of the ecclesiastical parish of Bywell.
The mother parish of Bywell has been an active community for many centuries. In Tudor times it was of great importance to iron workers due the large number of oak trees. Bywell was also a busy centre of the harness trade.
Bywell parish is also noted for its two churches St Andrew and St Peter. The former has its origins in the 8th century and is called the White church as it originally belonged to the White [Premonstratensian] canons of Blanchland and the latter with its origins in the 12th century is known as the Black church for it belonged to the Black [Benedictine] monks of Durham. Stocksfield also had its own Wesleyan Chapel, built in 1895.
The local Bywell Hall is the family seat of Lord Allendale.
At Cherryburn in nearby Mickley, Thomas Bewick the famous artist, engraver and naturalist was born. Bewick, who was instrumental in developing the art of woodcut engraving produced work of exceptional quality. Among his most famous works are the engravings in 'A General History of Quadrupeds' published in 1790 and a two volume history of British birds published between 1797 and 1804. He was also noted for his book end plates not only for their fine detail but also for their humour.
Ridley Mill was situated on a millpond near the hamlet. When the dam was destroyed in early part of the 20th century, the pond dried up.
Stocksfield also has connections with modern day celebrities including Rowan Atkinson, Tim Healy & Denise Welsh.
The railway came to Stocksfield in the 1830s with the building of the Newcastle to Carlisle railway. This replaced a scheme to build a canal between the two towns.
In 1801 the population was 24 and by 1851 this had hardly altered with only 27 inhabitants.