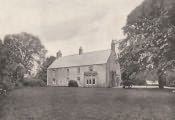 The rural village of Wark-on-Tweed lies along the northern border of Northumberland, which itself is the border between England and Scotland. It is situated in the parish of Carham, 1½ miles northeast of the village of Carham and 2 miles southwest of Coldstream. In present times it enjoys a peaceful aspect of the county in a beautiful area, but its main notoriety comes from many centuries of warfare on the borders.
The twelfth and thirteenth centuries are of great importance to the history of Wark, according to a variety of published sources. Wark castle, lying west of the village, is supposed to have been built during this time. Its outlook is from a rocky outcrop left behind by the Ice Age, making it a prominent point of defence for a critical ford across the Tweed river. This river is known to have been 'the undisputed frontier' in the twelfth century, and there were many meetings held on the gravel banks in the middle of the river. Fortified defences were built in several places, including Norham and Berwick. When King John marched his army north in 1215 to ravage the county, he left the castle in ruins. The castle was rebuilt on a number of occasions over a period of 500 years while border warfare continued in earnest. Several English monarchs stayed here, and popular tradition states that the Order of the Garter was established here during a stay of Edward III in 1296. Also during this period a weekly market was established and also an annual fair.
The village itself is sited on the south side of the Tweed, on the Kelso to Cornhill road. It has remained small in size over time; census returns for Carham parish show a modest increase, with 1,192 residents in 1801, rising to 1,362 by 1851. Trade directories that were produced throughout the nineteenth century give differing details about the inhabitants. Early on in the century people residing in Wark were for the most part fishermen; later on mention is made of the inhabitants being chiefly carters of coal and lime produced in the district. As the century drew to a close and the railway came to the area, agricultural workers were becoming more prevalent. The Earl of Tankerville was noted as the principal landowner in the district. There were 35 freehold properties in the village, and a national school for both boys and girls. The school was built to hold 100 children; in 1897 the average attendance was 65, with George Knox the schoolmaster.