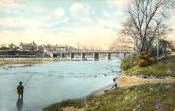 Wark (which is pronounced to rhyme with ark) is a village in west Northumberland 12 miles north west of Hexham and 5 ¼ mile south east of Bellingham. It lies on the west bank of the River North Tyne. Since 1886 it has been an ecclesiastical parish in its own right.
In the Middle Ages Wark was the head of the Lordship of Tynedale and in the 13th century Scottish Kings held court in Wark as it was part of Scotland. Throughout the 15th and 16th Centuries the Lordship was held in royal hands and in 1604 the Lordship of Wark was granted by James I to James Elphinstone Lord Balmerino. In the early 17th century the Lordship was sold and inherited by the Earls of Suffolk and eventually came to be owned by the Duke of Northumberland.
The church of St Michael, which was built in the Gothic style and includes an embattled tower in the west end. It was erected between 1814 and 1818 by the Governors of Greenwich Hospital and together with the Rectory cost over £7,000 to construct. Wark also profited from a Presbyterian Church and Manse built in 1875 and a Wesleyan Chapel.
The noted 19th and early 20th century naturalist, Abel Chapman lived near the village and the Trade Directory of 1887 shows Wark as a very thriving community. A full range of trades and profession was represented. Not only butchers shopkeepers and a miller but also a rabbit catcher, trap proprietor and a confectioner.
Over the 19th century the village has maintained a modest number of residents. In 1801 it was 304 and by 1851 this had slightly risen to 483, while in 1881 the total number of residents stood at 513.
The River North Tyne between Wark and Chollerton was originally crossed by a wooden bridge supported on eight stone pillars. In the 1870s the wood was removed and replaced by an all iron structure.
In April 2003 Wark was given another claim to fame when it was announced that it was to be one of the first villages in the North East to be have solar powered street lights.