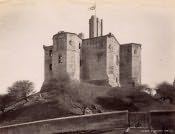 The village of Warkworth is situated in mid-Northumberland one mile west from the North Sea, seven miles southeast of Alnwick and fourteen miles northeast of Morpeth. It is surrounded on three sides by the Coquet river, and stands within a parish of the same name.
Warkworth has a long and interesting history. The parish church of St. Lawrence, situated at one end of the village with its dominating spire of nearly 100 feet in height, is the present church. There has been a church on this site for around 1,200 years. The first record dates from 737AD when King Ceolwulf of Northumbria gave the church and village to the Abbot and monks of Lindisfarne. The Norman church was built as a place of worship and a place of refuge in dangerous times; the nave is thought to be the longest Norman nave in the county.
At the other end of the village, Warkworth Castle sits majestically atop a hill, visible for miles around. This castle is the ancient seat of the Percy family, Earls and Dukes of Northumberland. It is remembered through Shakespeare's Henry IV and popularly believed to be where Hotspur set out from, to travel to Shrewsbury and his death. Today the castle is owned by English Heritage and is a popular venue for local events and outdoor theatre.
Warkworth Hermitage, on the river below the castle, is a chapel carved in stone and reachable only by boat along the river. It commemorates the deaths of the brother and beloved lady of a knight named Sir Bertram, who is said to have created the chapel and remained there the rest of his life. This tale was immortalized by Bishop Thomas Percy in his ballad The Hermit of Warkworth, written in the eighteenth century and dedicated to Elizabeth, Countess and later First Duchess of Northumberland.
The Coquet river is well known to anglers, and there is a history of salmon fisheries here. There is a long-held tradition that the first salmon taken from the river each season is presented to the Duke of Northumberland.
Warkworth village itself has one main street, with public houses, shops and tearooms along it, as well as private residences. In the nineteenth century the village held three fairs for livestock sale, in May, August and November. Races were held here in May each year, and there was a three-day feast in August. Population figures for the first half of the nineteenth century show a steady increase in numbers. In 1801, 614 persons are given as residing in Warkworth; by 1841 this had grown to 785 persons, and by 1851 the population stood at 834 persons. The village today is a popular place to visit, particularly in the summer months; its picturesque environment and colorful past making Warkworth a desirable destination on many a tourist's holiday route.